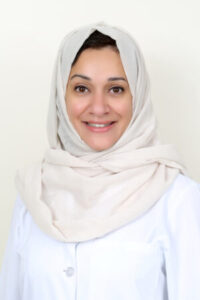 Vice President and Founding Member, ACAHM
Professor Fadia AlBuhairan is a pediatrician subspecialized in adolescent medicine. She leverages her clinical and population health expertise in establishing and overseeing the delivery of healthcare at AlDara Hospital and Medical Center, where she is the Interim Chief Medical Officer as well as the Chairwoman of the Department of Pediatrics and Adolescent Medicine. She is an Adjunct Professor at AlFaisal University and the Vice President of the Saudi Society for Adolescent Health. Professor AlBuhairan is a Member of the WHO Strategicand Technical Advisory Group of Experts (STAGE) for Maternal, Newborn, Child, and Adolescent Health and Nutrition. She is also the recipient of the 2020 Society for Adolescent Health and Medicine (SAHM) Regional Chapter Award.
Prof. AlBuhairan is the first specialized Adolescent Medicine physician in the Arab world and founded the first Adolescent Health Clinic in Saudi Arabia, at the Ministry of National Guard – Health Affairs (MNGHA) in Riyadh. She launched the Adolescent Health Research Program at the King Abdullah International Medical Research Center (KAIMRC) and pioneered the largest epidemiological study on adolescents in the Arab world to date. This landmark study, called JEELUNA, has generated the evidence base for translation into the necessary health policy, services, and programs to address adolescents' health needs at both the macro and micro levels in Saudi Arabia. She also held prior appointments as Head of Population Health Research at KAIMRC, Head of the Center of Excellence at the National Family Safety Program in Saudi Arabia, Adjunct Associate Professor at the Bloomberg School of Public Health at Johns Hopkins University, in addition to her clinical appointments as Consultant in Adolescent Medicine and Pediatrics at the MNGHA.
Prof. AlBuhairan received her medical degree from King Saud University in Riyadh. After completing her post-graduate residency training in Pediatrics, she obtained both Saudi Board and Arab Board in Pediatrics. She then further completed a clinical fellowship in Adolescent Medicine at SickKids Hospital and University of Toronto, Canada and obtained a Masters of Public Health (MPH), as well as Certificate in Health Finance and Management from Johns Hopkins University, USA.
By viewing health in a holistic way, Prof. AlBuhairan recognizes that in order to achieve population health and wellbeing, health must be addressed in a cross-sectoral approach and across all layers. Through her combined medical and population health background and her life course approach to health, she aspires to strategically plan and inform the necessary public health policies that aim at advancing the well-being of populations at country and systems' levels. Prof. AlBuhairan has published widely in her field and has received numerous research grants and awards. Her research interests include adolescent health risk behaviors and protective factors, health policy, health services, bullying, and mental health. She is often called upon as a subject matter expert in child and adolescent health, as well as population health. She serves on numerous advisory boards and committees, both national and international, to advise on and advocate for dedicated adolescent health services, resources, and approaches, as well as the overall cross-sectoral approach to health.